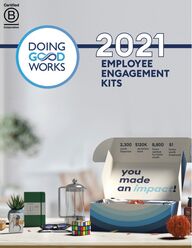 Return to flip book view
2021 Employee Engagement Kits
Page 1
Page 2
Sending an Employee Kit is a great way to reinforce company culture while working remotely. Whether it be new member onboarding, annual celebrations, or a reminder of company resilience - these kit ideas will surely be a great way to virtually align in 2021.We have thousands of items to t every budget, area of impact, and levels of engagement.The way we work has changed.So must the way we engage and connect with employees!
Page 3
OUR TEAM LOVED THEIR GIFTS!(949)354-0400info@doinggoodworks.comCall or email us to start this collaborative process today! "What a great pleasure and opportunity to work with the DGW team! Wanted to do a quick shoutout especially to Logan Altman for holding our hands and walking us through the entire process. He, along with several other folks from the team, made our gi box project a fun collaborative experience and we are thrilled with the nal product. Our team loved their gis! What a great opportunity. Looking forward to more partnerships ahead."
Page 4
Self-CareSelf care should be easier at home right? With your kids constantly around, your dogs barking at every leaf, the toilet paper shortage… Consider these products to help alleviate day to day stresses for your employee.
Page 5
Remote WorkingAccording to an IBM study "54 percent would like [working remotely] to be their primary way of working." Set your employees up for success, no maer where they are, with one of these kits.
Page 6
CreativityAllowing the mind to take creative breaks can lead to benecial outcomes for the mind and spirit (and no we don't mean scrolling through TikTok). These products help promote creativity within your employees and your company.
Page 7
CulinaryWhether it's making bread, Dalgona coee, or whatever new Gen Z trend is on the rise - people are baking their way through the quarantine! Stock your employees up with some tools to support the lile chef inside of them!
Page 8
Outdoor A walk outside never sounded more exciting…studies have shown an increased amount of nature exposure relieves our psychological stress.2 Take care of your employees and our planet with some of these eco-friendly options.
Page 9
FitnessStaying at home makes every day feel like a rest day. Encourage your employees to work on their health by reminding them they don't need a gym to work out. Check out some of these products for a tness kit.
Page 10
Doing Good Works oers kiing and fulllment services done through our Workforce Development program that hires youth who have experienced foster care. Please reach out for more information regarding this program.Workforce Development21Work with one of our industry experts as they source, design and quote a custom kit for your personalized needs.We do the hard work and collect all of the necessary information from your employees through a personalized landing page.
Page 11
2,095Youth Impacted5,054Hours Worked by Foster Youth51Foster Youth EmployedOur 2020 Impact$93KDonations MadeCreate job opportunities for youth who've experienced foster care Receive your product, and join the movement your purchase has created!3 4They take care of printing, packing and shipment.
Page 12
Our VisionOur ValuesOur mission is to use businesstransactions to improve livesand connect communities. At Doing Good Works our business is based on a 10/20/30 model. 10% DONATIONS 20% MENTORING 30% DIRECT HIRES So far in 2020, we have been able to directly impact over 2000 young adults and donated over $93,000 to the foster community.Our vision is for all young people who have experienced foster care to have an equal chance to succeed and feel empowered. When you make a purchase through Doing Good Works, you are helping to create a movement for the foster community to have every resource they need to succeed in life.Be Kind. Love More. Do Good.We never know what others are going through and life is too short to be anything but kind. This is why we stand by our values to Be Kind. Love More. Do Good. Our Mission
Page 13
Page 14
(949)354-0400info@doinggoodworks.comFor lead times or inquiries, reach out at the following:hps://newsroom.ibm.com/2020-05-01-IBM-Study-COVID-19-Is-Signicantly-Altering-U-S-Consumer-Behavior-and-Plans-Post-Crisishps://www.ncbi.nlm.nih.gov/pmc/articles/PMC5981243/1.2.